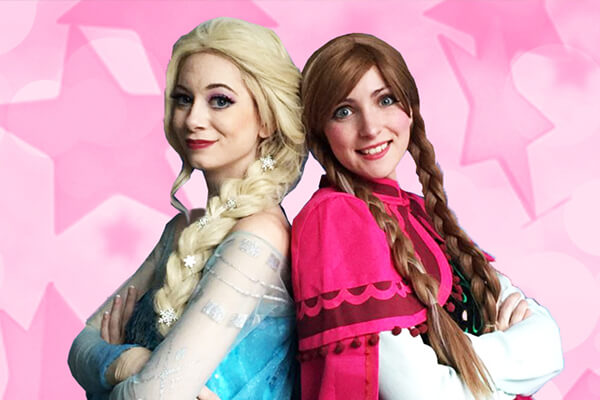 Princess Adelaide
Our storybook princesses from faraway worlds are ready to captivate all your little guests at your next kids birthday party in Adelaide!
Watch all the children's faces come alive as they go on a magical journey through our selection of great princess party ideas – balloon twisting, illusion and comedy show, face painting, crazy games and a big dose of fun!
Your children can take photographs with their favourite fairytale Princess and during the show, the birthday child will also be given a special themed balloon crown and balloon wand (to show they're special)
When you hire a Yabadoo princess in Adelaide we can work with you to come up with the perfect plan for your day, no matter the venue or occasion. From children's themed birthday parties to stage magic shows, we've got them all covered!
We service the entire metropolitan area and provide entertainment for all types of events.
We've serviced 1000's of events & parties
Book a 1.5 hr or 2 hr Birthday Party
& receive a magic show!
Adelaide Party Packages
sign up to our newsletter for special offers and the best party ideas
1 Hour Party
$197
Magic Show
Special Balloon for Birthday Child
Interactive Games
Treasure Hunt
Modelled Balloons
Music
Prizes
Most Popular!
1.5 Hour Party
$257
Magic Show
Interactive Games
Treasure Hunt
Modelled Balloons
Music
Prizes
More Games
Tattoos (time pending)
Face Painting (time pending)
Special Balloon for Birthday Child
2 Hour Party
$317
Magic Show
Interactive Games
Treasure Hunt
Modelled Balloons
Music
Prizes
More Games
Tattoos (time pending)
Face Painting (time pending)
Special Balloon for Birthday Child
Prices valid for Adelaide region.
If you have 22-30 children attending, there is a $3 fee per child above 22 children
• Travel fees apply for venues requiring longer travel time
• For corporate events – contact us for a prompt quotation
Get your free party planner!
A special crown and a scepter were all it took to make Nadine feel special. Her face lit up when Princess Sophia handed these to her. Then, Princess Sophia asked Nadine to assist her in the magic show. Her friends enjoyed the glittery face painting and the dancing. Everyone left Derrick Playground, Glenelg North smiling and giggling! Nadine still talks about how she was a Princess for a day. Thank YOU for your great service! - Emily, Glenelg 5045
Thank you for sending Princess Sabrina to The Glover Playground. My daughter Ashley was grinning from ear to ear since Princess Sabrina's pink dress and crown were exactly the same as hers. Thank you for remembering that detail. I mentioned it during the booking period and I am amazed at how you guys made the preparation seamless. After the games and magic, the girls enjoyed their "royal" tea time. I will be recommending you to our friends so they too can experience the royal treatment that we got with Yabadoo. - Amelia, North Adelaide 5006
A HUGE thank you for making Mia's fourth birthday party the talk of her kindy class. Princess Pink aka Katie, was just amazing. From the moment she walked through the door the kids were in awe and the magic show and games kept them all entertained until it was time to cut the cake (an impressive feat for a hot summers day in Adelaide). I would highly recommend Yabadoo - the whole booking process is simple and the customer service from start to finish was professional. Booking with you guys made not only Mia very happy but also took the stress out of the day for me. Thank you again for a fabulous day. - Monique W.
Are you looking for a simple yet fun princess game idea for your child's next party?

Princess Crown Race
First, you'll need to mark the start and finish lines. Make the distance age-appropriate. Then, divide the children into 2 teams and have them stand in line. Give each team a crown.
The first player of each team wears their team's crown. They race to the finish line by keeping their feet together, only moving forward one inch at a time. They need to keep their head high and keep the crown on their heads. Once they reach the finish line, they run back to the starting line as fast as they could and pass the crown to the next player, and so on.
The royal team who finishes first wins!
How to Plan a Fairy Birthday Party
We have made a list of easy fairy party preparations for your child's fairy party. Let us know which fairy party idea you were able to do at your event!
Fairy Party Invitations
Think nature and enchantment whilst deciding on an invitation design. Be creative!
Here are some fairy party invitation ideas you might want to try out:
Create a fairy wand invitation. You can do this by opening Microsoft Word on your computer and inserting a star shape on the document. Type all the party details and print it on cardboard cardstock paper. Tape or hot glue the star on a chopstick and your all set! You can also add ribbons to the wand to give it a more whimsical look.
Cut out a shape of a butterfly, then write the party details on it. Decorate it with glitters and sequins.
Send your party invitations with a tiny bag full of glitters and label it "Fairy Dust."
Print your invitation on kraft paper. Roll it into a scroll. Cut out a shape of a leaf from green cardstock paper or use a leaf-shaped punch. Insert the twine in the leaf before tying the twine around the invitation to secure it.
Fairy Party Decorations
Add earth tones to pastels to keep the decorations girly whilst incorporating the fairy party theme.
Use paper flowers to decorate your fairy party venue. It will look like a big garden in no time. You also use this as a great photo backdrop.
Cut out butterfly shapes from different pastel colored cardstock paper. Fold them in half – this will give the butterflies more dimension to it. Use double sided tape to stick it on to the walls.
Wrap large balloons with pastel tulle fabric, then secure it with a flower hair scrunchie.
Not feeling the tulle design? You can simply use a flower scrunchie to decorate the part where the balloon and balloon stick meet.
Hanging party buntings can instantly brighten up the party venue.
Fairy Party Food Ideas
Food for fairy parties is really fun to prepare! All you need is a little imagination.
Dip stick pretzels in white chocolate, then top it with candy sprinkles. Let dry. Label it as Fairy Wands.
Insert half of a large marshmallow on a stick so it's at the top part of the stick. Cut out a leaf shape from crepe paper and glue it on the stick, just below the marshmallow. You can also dip this in chocolate and add candy sprinkles. The children will enjoy these flower-themed fairy treats!
Put lemonade in a glass container or punch bowl and label it "Fairy Tree Sap."
Fill a jar with fruits and label it "Enchanted Fairy Treats." You can also use candies and jellybeans.
Fairy Party Activities
It's good to plan fairy party games and activities beforehand. Don't give the children a chance to feel bored. It will be a challenge to change their mood once they become restless.
Set up a fairy wand station. Give each child an undecorated wand. It can be as simple as a cut out star taped to a chopstick. Provide glue, sequins, beads, and even glitter and have them personalize their wand. This can also double as a party favor.
Relays are always fun! Play Fairy Pixie Dust Relay: Split the kids into 2 teams. Each team gets one spoon and a bowl of glitter (fairy pixie dust). The first player gets a spoonful of glitter and walks as fast as he/she can to the turnaround point and back to his/her team. The spoon is passed on to the next player and so on. The first team who finishes the relay is declared the winner.
The best way to make sure that the children have a jolly good time is to hire a fairy entertainer. Yabadoo offers great entertainment at reasonable prices – you'll get more than your money's worth! Let's talk today about how we can make your kid's birthday party entertainment special.
Fairy Party Favors
Show your appreciation to your guests by giving them something to remember your child's fairy birthday party by.
Pinwheels are a cute party favor idea!
Put sequins, glitter, or a mix of both in a tiny bottle. Print "Pixie Dust" tags on sticker paper and label the bottles.
Mega fairy bubble wands will surely be something that the children will love to receive. Use kraft paper and twine as tags so you can still incorporate your fairy theme.
Whether it is your child's birthday or a special event, we can provide clowns, magicians, fairies, face painters, princesses, super heros and many other characters as well as rovers, family shows, stage shows, juggling workshops, drama classes, magic workshops and much more.
© 2017 Yabadoo. Sydney Web Design by Soul Necta. •  Sitemap