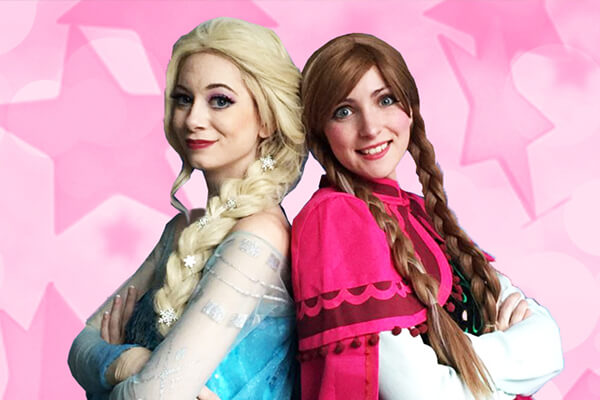 Princess Party Entertainment Canberra
Fairytale castles, charming knights and ugly toads are just some of the themed stories our delightful princess can share when she graces your kids birthday party in Canberra and puts a spell on all the children!
We have a bundle of perfect princess party ideas designed to thrill the kids from the moment she knocks on your door with a magic show, face painting, a treasure hunt, modelled balloon art, games (including pass the parcel) and more.
The children can take photographs with their favourite fairytale guest! Your birthday girl will also receive a twisted balloon crown and balloon wand during the magic show (just so they know they're special!)
We've been in the fun making business for close to twenty years and our customers love what we do. We can provide one of our Princesses for hire in Canberra for whatever occasion.
We service the entire metropolitan area and provide entertainment for all types of events.
We've serviced 1000's of events & parties
Book a 1.5 hr or 2 hr Birthday Party
& receive a magic show!
Canberra Party Packages
sign up to our newsletter for special offers and the best party ideas
1 Hour Party
$317
Magic Show
Special Balloon for Birthday Child
Interactive Games
Treasure Hunt
Modelled Balloons
Music
Prizes
Most Popular!
1.5 Hour Party
$367
Magic Show
Interactive Games
Treasure Hunt
Modelled Balloons
Music
Prizes
More Games
Tattoos (time pending)
Face Painting (time pending)
Special Balloon for Birthday Child
2 Hour Party
$417
Magic Show
Interactive Games
Treasure Hunt
Modelled Balloons
Music
Prizes
More Games
Tattoos (time pending)
Face Painting (time pending)
Special Balloon for Birthday Child
Prices valid for Canberra region.
If you have 22-30 children attending, there is a $3 fee per child above 22 children
• Travel fees apply for venues requiring longer travel time
• For corporate events – contact us for a prompt quotation
Get your free party planner!
Hi Yabadoo, I want to send my appreciation for Mermaid Princess. She was very courteous and attentive to the children. Everyone's faces lit up as she arrived at the Lennox Gardens in Yarralumla. Her beautiful gown and welcoming presence made her seem like the real thing. She acted so smoothly and didn't rush the activities. Zoe felt so special with the attention that was given to her. Your office was also a delight to transact with! The kind lady returns my calls and emails promptly. I highly recommend you! – Grace S., Fyshwick 1918 Canberra
Isabella's party was a BLAST! Princess Belle immediately caught the attention of the children with her beautiful costume. She was eager to play with the kids while making sure she paid extra attention to Isabella. She arrived early at the Black Mountain Peninsula in Acton to make sure everything's set for the party. Many of the parents asked for your number. Expect a lot of calls; you'll be busy for the days to come! Thank you for a fantastic time! – Hannah P., Hackett 1960 Canberra
Our Princess was exactly what we envisioned for our daughter's birthday party. She arrived on time, gave special attention to my requests and kept the children happy and entertained. She really did a great job! She kept the party moving at a nice pace with her many activities and was very accommodating with taking photos. The kids loved her and I know I will be referring her to other mothers who attended our party. I would highly recommend your services! Thanks for making Annabels party a success. - Debbie. S
The little royalties can play this princess game idea whilst your entertainer is still on the way!
Look at This Stuff, Isn't It Neat?
This is a good game if you're holding your kid's party at the beach or a playground with a sandbox.
Hide the "treasures" in a large Tupperware that's full of sand. You can include a chess piece, toy watch, fork, plastic dish, thimble, plastic cup, mirror, and jewelry.
Have the kids search for these treasures in the sand within a given time limit. The kid with the most treasures found is the winner.
If you there's a large group of children at the party, you can prepare three or more Tupperwares with buried treasures. Split the team into two. The first team to find all the treasures wins.
Every child will feel like a princess in a royal ball with this princess party decoration idea:
Sparkly Princess Party Cups
You'll need:
- Clear plastic wine glasses
- Glitters
- Mod Podge
Apply Mod Podge on the neck and base of the plastic wine glasses. Cover the whole area with glitters and leave it to dry overnight. On the next day, shake off the loose glitter. Apply Mod Podge on top of the glitters to seal it.
We suggest creating this about 1 week before the party to give it time to completely dry and settle in.
You can find clear plastic wine glasses in Kmart. Visit them at Westfield Belconnen, Westfield Belconnen S/C, Emu Bank Rd, Belconnen ACT 2617, or find a branch nearest you.
Whether it is your child's birthday or a special event, we can provide clowns, magicians, fairies, face painters, princesses, super heros and many other characters as well as rovers, family shows, stage shows, juggling workshops, drama classes, magic workshops and much more.
© 2017 Yabadoo. Sydney Web Design by Soul Necta. •  Sitemap