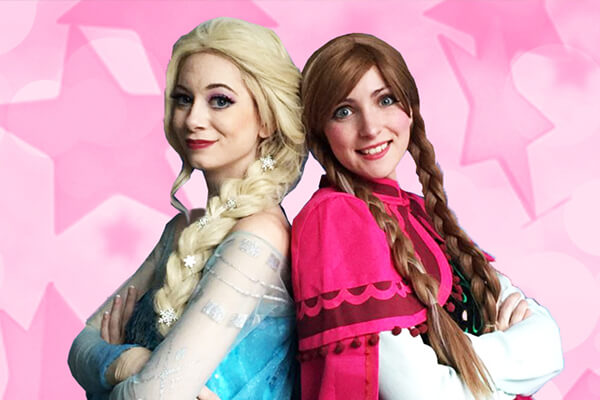 Princess Parties Gold Coast
If you would like to hire a princess for a kids themed birthday party, then our Yabadoo Princesses on the Gold Coast can make that wish come true.
Our handpicked Princesses know how to bring a party to life with a whirlwind of fun party ideas that are sure to delight such as a magic show, face painting and more (view our packages).
Every princess wants to wave their wand around and shower the kingdom with love so why not buy a Yabadoo wand to hand out to all your guests so they too can cast a spell during the show.
We have great characters, super awesome activities and over 18 years experience. Now we just need your event! Our Princesses for hire on the Gold Coast can perform for all types of occasions.When not at work our princesses can be seen feeding their pet dragons, getting a manicure and going for a ride in a pumpkin.
We've serviced 1000's of events & parties
Book a 1.5 hr or 2 hr Birthday Party
& receive a magic show!
Goldcoast Party Packages
sign up to our newsletter for special offers and the best party ideas
1 Hour Party
$347
Magic Show
Special Balloon for Birthday Child
Interactive Games
Treasure Hunt
Modelled Balloons
Music
Prizes
Most Popular!
1.5 Hour Party
$397
Magic Show
Interactive Games
Treasure Hunt
Modelled Balloons
Music
Prizes
More Games
Tattoos (time pending)
Face Painting (time pending)
Special Balloon for Birthday Child
2 Hour Party
$447
Magic Show
Interactive Games
Treasure Hunt
Modelled Balloons
Music
Prizes
More Games
Tattoos (time pending)
Face Painting (time pending)
Special Balloon for Birthday Child
Prices valid for Gold Coast region.
If you have 22-30 children attending, there is a $3 fee per child above 22 children
• Travel fees apply for venues requiring longer travel time
• For corporate events – contact us for a prompt quotation
Get your free party planner!
The kind lady who assisted me in my booking was right when she said that Yabadoo would take care of everything. Princess Amelia came in to Cascade Gardens with games, prizes, and crazy antics prepared. All we had to do was sit down and enjoy the show! My daughter Phoebe loved it when Princess Amelia called her for a special trick in the magic show. Phoebe felt so special that day, all thanks to you. I'm happy we booked with you! - Ivy, Broadbeach 4218
Good day, Yabadoo! I'm writing to let you know how Princess Ella made Lily's birthday a royal affair. All the kids were hyper that afternoon. They followed Princess Ella as she danced along Quota Park in Biggera Waters. Her costume was so beautiful, she turned the heads of the passersby. Lily had the grandest time singing the happy birthday song with Princess Ella. Thank you for making my daughter feel like the princess she is to us. You'll hear from us again next year! - Evie, Biggerra Waters 4216
We hired Princess Pink (Celeste) for my daughter's third birthday on the Gold Coast. There were about ten kids aged between two to eight years old. I wasn't sure what to expect because I have never done anything like this. She made a wonderful entrance and gathered the children around her straight away – in fact they barely left her side the whole time! All the kids were giggling and smiling throughout the entire magic show. Even the adults enjoyed standing around to see the show. Just again I wanted to say a massive 'THANKYOU'. The children loved it and at school this morning it was the talk of the playground. Several people said it was the best party they had ever been to. Thanks so much to Yabadoo - Sarah
In need of a princess party game idea to play whilst your entertainer has not arrived yet?
Princess Freeze Ball

Group the children by pairs. Each pair gets one spread of newspaper.
Whilst princess music plays in the background, the pairs dance around their newspaper. When you pause the music, the pairs must stand on the newspaper and hold their position for about 3-5 seconds. If a child stands outside of it, then the pair is out of the game.
Fold the newspaper in half, then play the music again. The newspaper gets smaller and smaller and the game gets more challenging in each round.
The last pair standing wins!
Create this easy princess party decoration idea without burning holes in your wallet:
Make Princess Crown Table Napkin Holders out of Toilet Paper Rolls
A party is not a princess party without crowns. Luckily for us parents, there is a way to create crowns that look more expensive than what it actually costs!
You'll Need:
- Toilet Paper Rolls
- Mod Podge
- Glitter
- Scissors
Create the tips of the crown by cutting out steep triangles on one side of the toilet paper roll. Apply Mod Podge on the outer part. Don't miss a spot!
Sprinkle glitter all over the toilet paper roll. Once you've covered everything, apply another coat of Mod Podge to seal it. This prevents the glitters from coming off. Then, insert the table napkin into your glittered crown napkin holder.
You will make your princess guests feel like royalty without spending so much money!
Find more princess party decorations at The Base Warehouse -  Shop 3, 40-48 The Entrance Road, The Entrance NSW 2261.
Whether it is your child's birthday or a special event, we can provide clowns, magicians, fairies, face painters, princesses, super heros and many other characters as well as rovers, family shows, stage shows, juggling workshops, drama classes, magic workshops and much more.
© 2017 Yabadoo. Sydney Web Design by Soul Necta. •  Sitemap