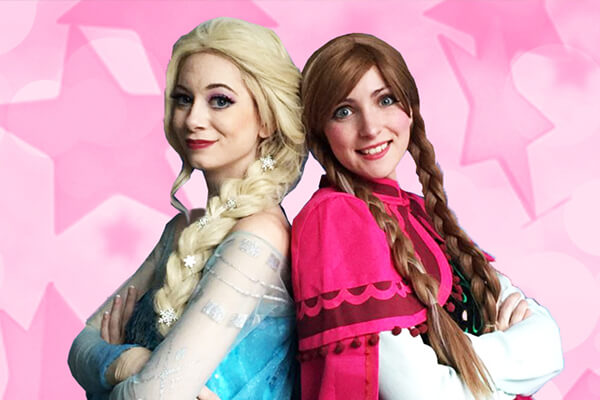 Princess Parties Melbourne
Experience the wonder of your very own princess party in Melbourne. Let us transform your kids birthday party with your child's favourite princesses. All our fairytale princesses are ready to make your little ones wishes come true!
We supply a very special recipe for your princess party – one cup of magic, three cups of games, a tablespoon of storytelling, five knobs of balloon twisting, two teaspoons of face painting and a liberal sprinkling of laughter and joy!
Kids can have their photographs taken with their favourite fairytale Princess! Your birthday party girl will also be given a modelled balloon crown and balloon wand during the magic show (so they know they're special).
Yabadoo Princesses for hire will arrive at your party in Melbourne dressed in bright and beautiful themed costumes and they all have backgrounds in drama, creative play and magic.
When it's time to party and celebrate your loved one's special day, we can add that spark you might be missing. Some of the places our princess's entertain at include childcare centres, libraries, council and community events, company family fun days and Christmas parties. Book us for your next event in Melbourne!
We service the entire metropolitan area and provide entertainment for all types of events.
We've serviced 1000's of events & parties
Book a 1.5 hr or 2 hr Birthday Party
& receive a magic show!
Melbourne Party Packages
sign up to our newsletter for special offers and the best party ideas
1 Hour Party
$327
Magic Show
Special Balloon for Birthday Child
Interactive Games
Treasure Hunt
Modelled Balloons
Music
Prizes
Most Popular!
1.5 Hour Party
$377
Magic Show
Interactive Games
Treasure Hunt
Modelled Balloons
Music
Prizes
More Games
Tattoos (time pending)
Face Painting (time pending)
Special Balloon for Birthday Child
2 Hour Party
$417
Magic Show
Interactive Games
Treasure Hunt
Modelled Balloons
Music
Prizes
More Games
Tattoos (time pending)
Face Painting (time pending)
Special Balloon for Birthday Child
Prices valid for Melbourne region.
If you have 22-30 children attending, there is a $3 fee per child above 22 children
• Travel fees apply for venues requiring longer travel time
• For corporate events – contact us for a prompt quotation
Get your free party planner!
I'm a VERY satisfied repeat customer of Yabadoo. Last year, we booked a fairy and she was really great with the kids. This year, Rachel wanted a princess party. I was quite nervous 'cause the fairy we booked last year set the standard so high, but when Princess Snow came to Queen Victoria Garden the children immediately felt at ease with her. She was in character the entire party, and her facepainting skills are flawless – the kids loved it! Your entertainers are incredibly talented! Thank you, Yabadoo! – Megan Y., Carlton 3053 Melbourne
"Mom, I want to be a Princess when I grow up" This was what my daughter told me right after her party in Treasury Gardens. She can't stop talking about how Princess Elise came to her birthday celebration. Seeing the smile on my daughter's face and how happy she was, made the money spent worthwhile. I can't thank you enough for making Sofia happy with the dancing, the games and the special balloon that Princess Elise gave her. – Simone F., South Wharf 3006
I highly recommend Yabadoo Kids Parties. Katrina was an incredible Princess. All of the kids LOVED her. She came to our six year olds party in the worst winter downpour imaginable. We had 26 soaking wet kids who could have complained but instead forgot it was raining because of Katrina. She captivated the kids and adults alike. There were lots of laughs and every kid got to participate. Our daughter had a great time and felt special every step of the way. Everyone raved about her! I would definitely hire Yabadoo again for future parties & would recommend them in a heartbeat.
- Bernadette. L
The kids can enjoy this princess game idea whilst your entertainer hasn't arrived yet:
Princess Crown Olympics
First, you'll need to mark the start and finish lines. Make the distance age-appropriate. Then, divide the children into 2 teams and have them stand in line. Each team gets 1 crown each.
The first player of each team wears their team's crown.
Tie their feet together with beautiful shiny princess lace. They race to the finish line by keeping their feet together, only moving forward one inch at a time. They need to keep their head high and keep the crown on their heads. Once they reach the finish line, they hop back to the starting line as fast as they could and pass the crown to the next player, and so on.
The team who finishes first wins!
This princess party decoration idea will instantly add color and sparkle to the celebration:
Colored Water in a Vase
One of our favorite tricks is mixing food coloring with the water inside a clear flower vase. You can even add gold sequins to add some sparkle to your party. Use it as a centerpiece or as an accent to your food table. It's a quick and easy decoration for your princess party.
To add more variety, complement your sparkly centerpiece with paper decorations.
Did you know that Spotlight stores have party decorations you can use for your child's birthday bash? One of their stores is in Essendon DFO, Shop 14, 100 Bulla Road, Essendon, VIC 3041. You can find the complete list of their store branches in their website.
Whether it is your child's birthday or a special event, we can provide clowns, magicians, fairies, face painters, princesses, super heros and many other characters as well as rovers, family shows, stage shows, juggling workshops, drama classes, magic workshops and much more.
© 2017 Yabadoo. Sydney Web Design by Soul Necta. •  Sitemap