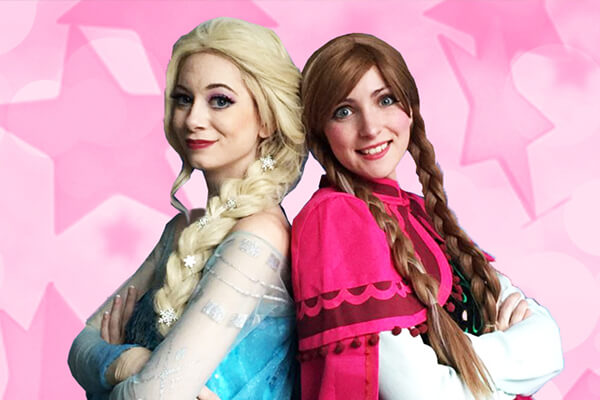 Princess Parties Perth
They've come from a land far, far away to make everything brighter and pretty. Invite one of our fairytale beauties to spread beauty, wonder and awe for your little princess at your next kids birthday party in Perth.
Our beautiful entertainer will enter your party in a gorgeous Princess costume. She will charm the children with activities and fun party ideas including a magic show, games, balloon sculpting, face painting and lots more.
Your birthday girl will also be given an extra special modelled balloon crown and balloon wand during the magic show (to show they're special!)
Want to learn more about what we do? Feel free to ask and we'll endeavour to help. No matter the size of the event or the occasion, our princesses for hire in Perth will enchant your guests!
We service the entire metropolitan area and provide entertainment for all types of events.
We've serviced 1000's of events & parties
Book a 1.5 hr or 2 hr Birthday Party
& receive a magic show!
Perth Party Packages
sign up to our newsletter for special offers and the best party ideas
1 Hour Party
$347
Magic Show
Special Balloon for Birthday Child
Interactive Games
Treasure Hunt
Modelled Balloons
Music
Prizes
Most Popular!
1.5 Hour Party
$397
Magic Show
Interactive Games
Treasure Hunt
Modelled Balloons
Music
Prizes
More Games
Tattoos (time pending)
Face Painting (time pending)
Special Balloon for Birthday Child
2 Hour Party
$447
Magic Show
Interactive Games
Treasure Hunt
Modelled Balloons
Music
Prizes
More Games
Tattoos (time pending)
Face Painting (time pending)
Special Balloon for Birthday Child
Prices valid for Perth region.
If you have 22-30 children attending, there is a $3 fee per child above 22 children
• Travel fees apply for venues requiring longer travel time
• For corporate events – contact us for a prompt quotation
Get your free party planner!
My daughter Olivia has been dreaming of becoming a Princess. When she saw Princess Sofia enter Variety Place Playground, she could not contain her excitement! I cannot forget the look on Olivia's face when Princess Sofia's scepter turned out to be magic wand that was able to make flowers appear from an empty box. You should have seen how happy she was when these flowers were given to her as a birthday gift. Thank you Yabadoo, for making my daughter's dream a reality! – Nancy U., Swanbourne 6010 Perth
A Princess party to end all princess parties! Sophie has not stopped talking about Princess Ruby with her beautiful dress and brilliant face painting and balloon making tricks. She made Stirling Gardens seem like real palace grounds for the day and made Sophie feel like a real princess! Absolutely fantastic! - Juliet C. Northbridge 6003 Perth
Thank you so much! Our themed party was a success! Our princess was excellent. Simone and the girls enjoyed her dazzling antics. She was very professional and engaging and the magic tricks were very funny.
The kids were fully captivated by the entertainer (Sally) from the moment she arrived to the moment she left. The quality of the service far exceeded our expectations which included the prompt, efficient customer relations from the first moment we contacted Yabadoo and spoke to the sales team. My child now pretends she is playing in her castle and still talks about the activities. She was excellent! Thanks again for making my daughter's birthday something to remember - Jude
Here's a princess game idea that doesn't require a huge space to play:
Greetings, Oh, Princess
Blindfold the birthday princess and have the other children form a circle around her.
The birthday princess is turned around 3 times. She then uses her hand or scepter to point to one of the children in the circle. The child walks up to her, shakes her hand, uses a disguised voice and says, "Greetings, O, Princess." The princess has to guess who the child is.
If she guesses correctly, then the child becomes the next blindfolded prince/princess. If she guesses wrong, she points to another child and guesses again.
This princess party decoration idea is affordable and easy to do!
Glitter-Dipped Balloons
No princess can resist sparkle and glitter on her birthday. This princess party idea will definitely make your decoration skills look top notch. It's so pretty, yet so easy!
You'll need:
- Inflated Balloons
- Mod Podge
- A whole lot of glitters!
All you need to do is cover the top part of your inflated balloons with Mod Podge, sprinkle the whole thing with glitters, and hang it to dry. That's it!
If you want to make sure the glitters are sealed, you can add one more layer of Mod Podge over the glitters.
The best way to set this up in your princess party is to hang the balloons upside down with a string 'cause the glitters make the balloons heavy. It will look like balloon chandelier - shining, shimmering, and splendid!
Balloon World, contrary to its name, has a lot more to offer than balloons – they have really cute princess party decorations, too! Visit them at 70 Norma Road, Myaree, Western Australia, 6154.
Whether it is your child's birthday or a special event, we can provide clowns, magicians, fairies, face painters, princesses, super heros and many other characters as well as rovers, family shows, stage shows, juggling workshops, drama classes, magic workshops and much more.
© 2017 Yabadoo. Sydney Web Design by Soul Necta. •  Sitemap