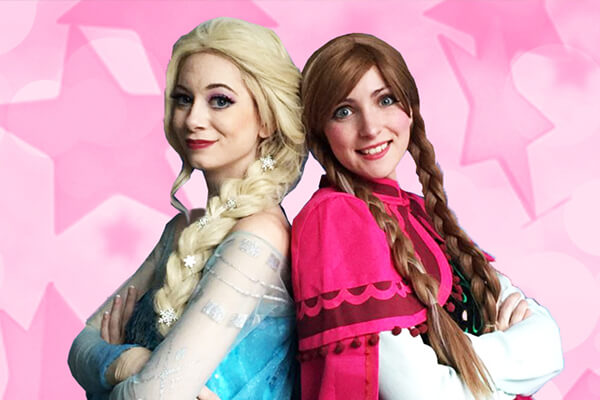 Princess Parties Brisbane
Yabadoo Princesses want more than to find their Prince Charming. Your little royalty will gasp in wonder and awe when our graceful princess attends your next kids birthday party in Brisbane.
From the moment our entertainer arrives at your kids birthday, they're ready to spread laughter and spells with tons of princess party ideas such as a magic show, balloon art, face painting, games (like pass the parcel), a treasure hunt and more.
Your little girl will also receive a modelled balloon crown and balloon wand during the show to make them feel special.
Our Brisbane princesses for hire perform regularly at all types of events including promotional events, product launches, themed birthday parties, fairs, Christmas parties, corporate events, kindergartens, shopping centres and just about any other event you can think of.
We've serviced 1000's of events & parties
Book a 1.5 hr or 2 hr Birthday Party
& receive a magic show!
Brisbane Party Packages
sign up to our newsletter for special offers and the best party ideas
1 Hour Party
$347
Magic Show
Special Balloon for Birthday Child
Interactive Games
Treasure Hunt
Modelled Balloons
Music
Prizes
Most Popular!
1.5 Hour Party
$397
Magic Show
Interactive Games
Treasure Hunt
Modelled Balloons
Music
Prizes
More Games
Tattoos (time pending)
Face Painting (time pending)
Special Balloon for Birthday Child
2 Hour Party
$447
Magic Show
Interactive Games
Treasure Hunt
Modelled Balloons
Music
Prizes
More Games
Tattoos (time pending)
Face Painting (time pending)
Special Balloon for Birthday Child
Prices valid for Brisbane region.
If you have 22-30 children attending, there is a $3 fee per child above 22 children
• Travel fees apply for venues requiring longer travel time
• For corporate events – contact us for a prompt quotation
Get your free party planner!
We tried to book for last year, but Yabadoo's schedule was already full. So this year, I called a month before the party and got booked! Ice Princess was really worth the wait. All the kids had a blast playing with her at Frew Park, Milton. Her passion in what she does is evident in her act. Her costume is so believable, and it really adds to the illusion of the character. Expect many calls from my friends – a lot of them got your number! – Cathy W., Albion 4010 Brisbane
You were definitely the right choice for my daughter's party! I was feeling nervous because we had never hired an entertainer before, but I must say I'm glad we booked with you. Princess Anna came in Orleigh Park wearing her glorious costume, and Alyssa stood in awe of her. She talks about it till now! Even the adults requested to take photos with Princess Anna and she gladly obliged. The whole party had great energy because of her. You can be sure that you'll hear from us again next year! – Tori K., Gaythorne 4051 Brisbane
We had Princess Pink come to my daughter's fourth birthday party in Brisbane. It was the first time we had used Yabadoo (which can be a gamble) and boy did I choose well!
Extremely professional and right on time, she created a little fairytale mood and the girls were beyond excited. She even made her mannerisms graceful and princess-like. I do believe every child was made to feel special. They loved the magic show, face painting, balloons and games. My daughter could not believe Pink was singing Happy Birthday to her! As the Mum, I loved the prompt communication while coordinating the party, the spontaneous hugs from my daughter during the party, and the great group picture shots we had at the end of the day. It was a truly magical party. Phew!! Thank you for making it so special - Debbie. S
Check out this fun princess party game idea you can play at your child's next birthday!
The Princess and The Frog
Everybody sits down in a circle. Pass a frog stuffed toy around, from one person to the next, whilst playing princess music. Whoever is holding the frog when the music gets paused is out of the game.
The last prince or princess that is left in the circle is declared the winner.
For younger children, you can give a prize to the kids who are out of the game so they don't feel bad, but also give a special prize to the winner.
Whether it is your child's birthday or a special event, we can provide clowns, magicians, fairies, face painters, princesses, super heros and many other characters as well as rovers, family shows, stage shows, juggling workshops, drama classes, magic workshops and much more.
© 2017 Yabadoo. Sydney Web Design by Soul Necta. •  Sitemap