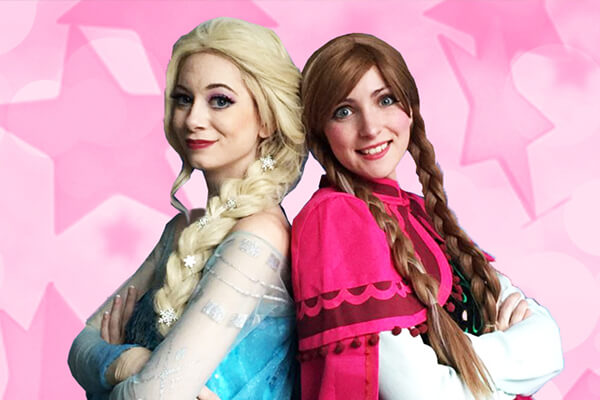 Princess Party Newcastle
To bring a fairytale ending to your magical day, our Yabadoo princess will travel from lands far away.
Choose from one of our many princesses for your next kid's birthday party in Newcastle.
Our delightful Newcastle Princesses for hire have stacks of great party ideas to guarantee everyone has fun including an interactive magic show, face painting, games, balloon twisting and washable tattoos.
Every party needs some fun and after 18 years of experience, we're more than qualified to provide it. With great characters and super awesome activities to choose from, Yabadoo Princesses for hire in Newcastle can perform at all kinds of functions.
We've serviced 1000's of events & parties
Book a 1.5 hr or 2 hr Birthday Party
& receive a magic show!
Newcastle Party Packages
sign up to our newsletter for special offers and the best party ideas
1 Hour Party
$327
Magic Show
Special Balloon for Birthday Child
Interactive Games
Treasure Hunt
Modelled Balloons
Music
Prizes
Most Popular!
1.5 Hour Party
$377
Magic Show
Interactive Games
Treasure Hunt
Modelled Balloons
Music
Prizes
More Games
Tattoos (time pending)
Face Painting (time pending)
Special Balloon for Birthday Child
2 Hour Party
$417
Magic Show
Interactive Games
Treasure Hunt
Modelled Balloons
Music
Prizes
More Games
Tattoos (time pending)
Face Painting (time pending)
Special Balloon for Birthday Child
Prices valid for Newcastle region.
If you have 22-30 children attending, there is a $3 fee per child above 22 children
• Travel fees apply for venues requiring longer travel time
• For corporate events – contact us for a prompt quotation
Get your free party planner!
Princess Sabrina did a splendid job in Zara's birthday in Parnell Park! Both the children and the adults had tremendous fun. Her costume was beautiful and she looked good in pictures too. Princess Sabrina and the kids sang along to familiar songs and danced the afternoon away. Other parents were also impressed and asked how to contact you. I recommend you to anyone who needs fantastic entertainment for their kid's party. You are a delight to work with, Yabadoo! – Tamara B., Adamstown 2289
Princess Ella made Chloe's birthday a truly memorable event for everyone. She treated all the children like princesses and painted their faces beautifully! I was so happy when Chloe suddenly shrieked "This is the best party ever!" Half of the Lambton Park probably heard it. Your services are affordable but the memories you give us are priceless. THANK YOU! – Wendy H., Broadmeadow 2292 Newcastle
On Sunday 5th August, my daughter Larissa celebrated her third birthday and we had Princess Pink come to perform for the children. I would like to thank Sabina again for the wonderful day. All the kids loved her. If only I had filmed their faces as she walked in!!!! And her magic show was very entertaining; the laughter that came out of them really made us parents so happy. They really enjoyed her being there and were sad when she had to leave. The girls were asking where she parked her horse and carriage. So cute! I highly recommend your company and Sabina to my family & friends. - Rachel S.
This is a princess game idea that's good for younger kids:
Where's My Princess Stuff?
Print out two copies of princess-related pictures like a glass slipper, tiara, gown, etc.
Hide the first copy in the party venue. Make sure your hiding place is age-appropriate. Distribute the second copy amongst the children.
Each child goes around the room and looks for the picture that is the exact duplicate of what they have. If she has a photo of a tiara, then she should look for a tiara, and so on.
Have them do this within a given time limit.
Give prizes to the children who find their picture's match, but don't forget to give consolation prizes to those who don't!
This princess party decoration idea will instantly add a dash of royalty to your celebration!
Princess Party Cups
You'll need:
- Craft punches
- Cardstock
- Glue/Paste
- Paper cups
Punch your chosen shape out of the cardstock. It could be a shape of a crown, heart, or a ribbon. Be creative! Glue it to your colored paper cups, and you're done!
Do you want to purchase instead? Lakes Party Supplies sells really cute princess party decorations! Drop by their store at Unit 7, 40-42 Kalaroo Road Redhead NSW 2290.
Whether it is your child's birthday or a special event, we can provide clowns, magicians, fairies, face painters, princesses, super heros and many other characters as well as rovers, family shows, stage shows, juggling workshops, drama classes, magic workshops and much more.
© 2017 Yabadoo. Sydney Web Design by Soul Necta. •  Sitemap